Welcome to SecularSynagogue.com
Online Jewish learning, social justice, discussion, and creative, supportive community
We'd love to have you be part of this Connected Community!

Registration for this cohort closes August 3, 2019
What is SecularSynagogue.com?
Digital Judaism, online community, engaged and meaningful learning and practice.
The goal of this community is two-directional: Explore how Judaism can be an enriching force in your life and, in turn, make you a more kind, just, and effective force for good in the world.
Who is SecularSynagogue.com for?
Jewish, Jew-ish, Intermarried, In-married, Unmarried, Secular, Cultural, Atheist, Agnostic, Seeker, Spiritual... YOU
If you are a cultural/secular Jew, someone who is becoming a Jew, partnered with a Jew, or otherwise Jewishly engaged, and want to connect to Jewish wisdom, ideas and community, this is the place for you! Every day you will join people just like you in Jewish-inspired challenges and learning. This is an accessible, affordable, engaged, inclusive, meaningful, and contemporary approach to Jewish learning, practice, and community. Create and foster a deep and rich Jewish life — in 5 - 10 minutes a day.
What do members of SecularSynagogue.com get?
Your membership gives you access to the Facebook group where challenges, teaching, and discussion take place. You'll get a weekly email and a weekly "inspiration injection" video from Rabbi Denise (a Shabbat talk also known as a "sermon"). You'll have access to a website full of resources to DIY Jewish practice at home from Shabbat to Passover and more — these will have traditional and modern options, including those who wish for a completely secular/non-theistic experience.
We also do monthly live discussions and programs including a digital seder, learning programs, and guest speakers. Topics have included: mourning after the Pittsburgh shootings, finding joy (featuring a personal development coach), monthly themes for each new month, social justice opportunities, and a book club discussion.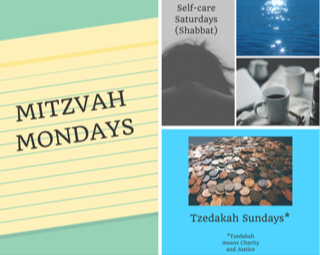 Our group goals and challenges
How much does membership cost?
Founding members fee: $18 a month or an annual fee of $180. If you join now you will have access to this fee forever, even after it goes up for the general public.
SecularSynagogue.com will be accepting new members until April 30, 2019. Get in now to make sure you don't miss the chance to get meaningful content coming straight to your inbox, a Facebook feed full of things you actually want to look at, and a supportive and caring community to dive in with.
Your engaged Jewish life is only a click away!
Join today!
Sign up to be a valued member of SecularSynagogue.com. As a member, you'll receive access to a member's only login area, as well as access to the SecularSynagogue.com Facebook page
Rabbi Denise is the spiritual leader of SecularSynagogue.com. Her passion is creating Jewish experiences that are meaningful, relevant, contemporary, and fun! She is so excited to connect you with Jewish learning, culture, practice, and community - no fuss, no guilt, no "bad Jews" here. Rabbi Denise is also the leader of the Oraynu Congregation for Humanistic Judaism, a professor, a mom, and a fan of good wine and bad television.